Did you ever experienced this "task manager has been disabled by your administrator" is caused by the viruses,
malware
, spyware has modified the existing regedit in your windows, as happened several times on my
windows xp
. At the moment I opened the task manager by clicking ctrl + alt + delete is happening is I was given an error message like this "task manager has been disabled by your administrator" when opening regedit and the message appears like this "Registry Editing Has Been Disabled By Your Administrator " this makes me very upset and made ​​me dizzy at the time.
After I was looking at some sites by searh engine I finally found some sites that discuss this issue.
There are several ways that they provide the solution:
1. The easiest way you can do by using the task manager fix tool
, Task Manager Fix is a FREEWARE system utility to fix task manager disabled by spywares, trojans and displays error message: "Task Manager has been disabled by your administrator", the which blocks access to Windows Task Manager.You can download it for free at
here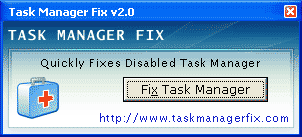 2. Enable task manager via the run command.
Click Start>Run and Paste the following as it is and press Enter
REG add HKCU\Software\Microsoft\Windows\CurrentVersion\Policies\System /v DisableTaskMgr /t REG_DWORD /d /0 /f.
3. applying windows Group Policy Editor
Click Start button click Run and Type Gpedit.msc Navigate to User Configuration\Administrative Templates\System\Ctrl+Alt+Del Options\Remove Task Manger
Double Click Remove Task Manager and set it to Not Configured
4. By Using Registry Editor
Star Run and Type Regedit and Click o.k
Navigate to HKEY_CURRENT_USER\Software\Microsoft\Windows current Version\Policies\System
In the Right pane delete Value DisableTask mgr
Close Registry Editor.
May the steps above work for windows xp, 7 and vista.
reference [
techdows
]
Description:
Task manager repair for windows
Rating:
4.5
Reviewer:
Zein Okeh
- ItemReviewed:
Task manager repair for windows